We're Back and Ready for Round 2
So it begins. In a move which one might imagine is in response to fans' complaints of last season, we have a cast of true game players. In my last post I argued that this was not necessarily a good thing, so far I stand by that (aren't I just the contrarian?!). Being a first episode there'll be little to talk about strategy wise here, so it might be a short post. Regardless, let's make like Jarrad and hold on to our sacks, hopefully it will be a fun ride.
I'm no expert at making friends but I'm pretty sure you don't start by asking "are you homosexual" in the first hour…
Movers and Shankers?
While there was much argument last season that there were too few 'superfans', it seems that this season every other player has a gimmick. While I'm not here to critique casting choices, I will critique strategy. Most obviously in my cross-hairs is of course Henry. Mother Hen? Zenry? (Cast your vote for nickname in the comments). The faux yoga teacher. Let's put aside for now that in his piece to camera he tells us that he's shocked no one has ever lied about their vocation before (makes me think he's no fan at all), to be fair we didn't learn anything about him tonight other than that part of his strategy. Which it seems is the strategy of many of our contestants in 2017. Not that I'm knocking the play as such. But to call it a master strategy? It's a minor tactic at best. Let's look at the players in the past who have done well with this strategy, the most prominent of whom being Tony Vlachos. I think we can all agree that Tony's ploy to hide his vocation was not the factor that led to his success. Let's look at all of the players who've hidden or disguised their vocation and not done as well as Tony. Bianca, episode 2 boot. Evan, episode 3 boot. Did Phoebe hide what she did? If she did it didn't seem to help her. I believe Andrew hid that he was a 'superfan', might have helped but wasn't enough. And that's just the players from the last Australian season who've tried this tactic or something similar. There's a list of non-performers from US seasons. Even the first boot from the NZ season hid her fandom.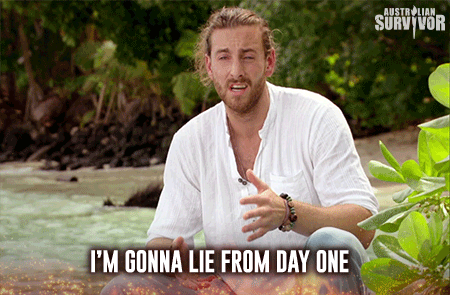 Covert Unintelligence
How many players do we have here that are hiding their background? Aside from Yin Yang Hank, I count Mark W., and Tara (dear reader let me know if there's anyone missing from this list). Seriously Tara? You think that people knowing you're a barrel racer would disadvantage you? I didn't even know it was a thing until 30 mins ago!
Back to Halasana Henry (it's a yoga pose, again, vote below). I'm not quite sure what his reasoning is here anyway. Is he just trying to hide that he's a labourer? Are labourers inherently Survivor threats? Perhaps the idea is just that he's going to pretend to be a really cool, friendly, easygoing guy. Not really sure that that's something you can fake. Just ask AK47 (someone was going to do it, might as well be me). Or as I like to call him, Male Rebel Wilson. MRW.
Finding the Dickhead…
These guys. These fuggin guys. So many dickheads. Of course I don't know these people outside of the show and they're possibly great people, but so far, they're acting like dickheads (or at best it's being edited that way).
MRW. AKA, AK (A!!) Your faux gentlemanliness might help you pick up drunk bridesmaids (or more likely not), but dude this is not a coolness party. Dial it back. I'm imagining his final tribal speech now. Everyone is blown away when he reveals that he doesn't actually have any gay friends *insert dramatic reveal music*!!! (Is that because he doesn't have any friends at all?). The lying about gay friends takes the prize for most dickhead comment of the evening. I hope he can dial it back for his sake. If he doesn't I suspect he's not long for this world. As of right now, you're dickhead number one. I should know, I learned all about it from Fat Fiscal Superman. AKA Kent.
…In a Sea of Dickheads
Is the sarcasm filtering though here? Please keep making dickhead moves like this, we love it. Next on our dickhead list is Jericho the Jesus Jerk. OK, fair enough we haven't really seen much of him tonight, but he did possibly say the second most dickheaded comment of the night. I'm paraphrasing but essentially it was 'in my life I live a strong Christian faith, but in this game there will be bloodshed! *maniacal laugh*'. His strong Christian faith is so strong that he hasn't read enough of the bible to know that is chock full of slaughter, or enough history books to realise that the Christian faith is responsible for more bloodshed on this planet than any other doctrine, nazism included. I'm getting political, but so I should. If Australian Survivor wants to shine a light spirituality/religiosity, then of course I'm going to respond. Anyway, other than myself, there was of course one more dickhead of note as dickheadedness is not solely a male phenomenon.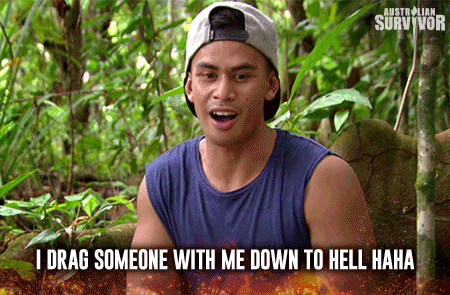 Oh Baby. Baby…
She's not your typical sheila. She's a knockaround, drink a slab with the boys, call a spade a spade, fair dinkum Aussie rootrat. Seriously Survivor? This is where we're going in 2017, ocker gender stereotypes? Again, we didn't see much of Aimee tonight, but the little introduction we did have made it into our dickhead quotable quotes. So quotable that I'm not going to quote it but I will paraphrase. Essentially she said 'when I tell people I'm a plumber, they're like, "nah, you must be a hairdresser", and I'm like "nah, I'm a plumber"'. Aimee if you're seriously telling people that you're a plumber and they're responding with disbelief and suggesting that you must be a hairdresser, then you must talking to true, died in the wool, fuckin dickheads. Who are these idiots that respond like this? To be fair to you, the dickheadedness on display here does not belong to you. I'm sincerely sorry if that's you're experience. I don't find it laughable at all, and it saddens me that you dismiss it as humour. I hope that you don't have to experience that again in the future.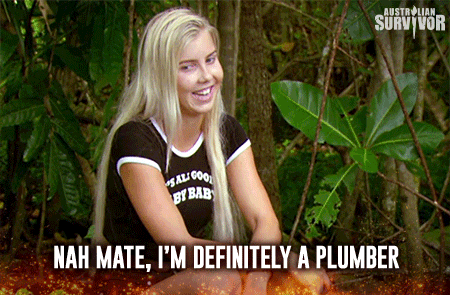 Other Notable Moments
We've already noted use of the word 'dickhead' tonight and I'm really happy that Survivor has not been afraid to use such language. It was particularly refreshing to hear Jacqui use the word 'tits'.
And in the opening moments too. Really set the tone. Is that a Survivor first? Somebody please make a meme of Jacqui saying 'tits', I'll be forever in your debt.
I don't feel like we'll have to talk through the challenge and lead up to tribal, there's little to discuss other than the challenge was fun, but took too much airtime for my liking. Time that could have been spent showing us whether or not there was an advantage on the barge at the start. I'd be surprised if no one had the sense to look for one, I would have liked to see that. Incidentally, while we're on the barge, you can't call it a twist in the first challenge if you are just explaining the rules of the challenge. That's not a twist, that's explaining the rules of the challenge. I'll wager a large booty that this is not the first time Australian Survivor lies about a twist this season though.
My viewing buddy and I looked at each other when Joan told us she was the puzzle queen and recognised that they very much sounded like famous last words. Not sure what to make of Ben flipping his vote to Joan on the revote. We don't know enough about him or any alliances/factions/voting blocks at this stage to understand the strategy behind it. Perhaps there was no strategy.
Must say I was a little shocked that there dind't seem to be much made of sending two people off to the fire challenge. As we discussed last season, if ever there's a situation where the tribe has to pick one or more emissaries you do not want to be one of those people. There's too great a possibility it will not work out for you, as we saw for Mark H. He took this hard. Just as Kent and Joan took it hard when they put their hands up for the puzzle.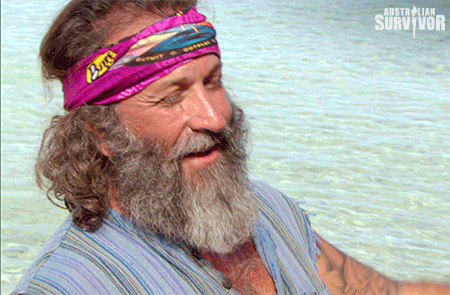 There wasn't enough lime farmer this episode. Wait, that's not true, there was more time with Tarzan this episode than there was Jared Lipnicki in Jerry Maguire!
All in all, I must say I'm extremely happy with the episode though. Yes I've talked a lot about the dickheads that I loathe. But as I discussed at length last post, that's what we love about Survivor. Talking with our friends and the community about the dickheads, gaining pleasure in their failures, feeling superior when they make a stupid move or say something ridiculous, telling everyone how we would do it SO much better. If anything I hope that these losers would calm down just a little bit, we don't want them all to go home in the first third of the season and have a lacklustre period like we did last year. We've certainly got a cast of fabulous characters, time will tell if we have a cast of fantastic contestants.
Until tomorrow, that's all I've got for you, head back to camp.
– Russell Feathers
(Most memes created by Russell Feathers, most everything else and all gifs channel ten)